Case Study Hotels & Resorts
Booking platforms are gaining more and more market share as travelers increasingly look to the opinions of others before booking holiday accommodations. This case study provides a cross-section through our hotel partners, showing how each of them – from 5 star luxury product to a urban hotel in St. Pauli – increased website performance and direct bookings through tapping into User Generated Content.
When looking for a holiday accommodation, most people aim for a place that not only meets their expectations but also matches their personality. This is why the majority of travelers look to the opinions of other guests in order to gain authentic insights before placing a booking.
Professionally shot images of empty restaurants and pools in perfect lighting often only serve limited impressions and make it difficult for guests to picture themselves there. For this very reason, booking portals such as booking.com, expedia.com and agoda.com, which offer exactly these desired guest reviews, are gaining more and more market share while many hotels see fewer direct bookings.
Over the past few years, the process of leaving online reviews has been immensely simplified. Long well-argumented text passages have become obsolete. Instead, a simple evaluation in the form of a star-rating now often does the trick. As a result, the quality and informative value of reviews in large online-portals is steadily declining, making the ratings less representative.
For this reason our customers from the travel industry, luxury 5-star resorts just as much as small hostel-like urban hotels, are all facing the same challenge: to offer personal and authentic customer content on their own website in order to serve valuable impressions and inspiration to browsing holidaymakers.
Bürgenstock Hotel & Resort
The Zug-based Bürgenstock Selection is Switzerland's largest luxury hotel group. Bürgenstock owns and operates elegant hotels and residences, with a total of 678 guest rooms and 67 luxury suites. Since May 2019, the Bürgenstock Resort in Lake Lucerne and Waldhotel have been integrating User Generated Content curated by squarelovin on the hotel websites and various social media channels.
British tradition with a modern touch – this is how The George Hotel Hamburg describes itself. Designed for a young and creative audience, the hotel located in the district of St. Georg offers countless photo spots for its guests. Whether it's the Campari Lounge at sunset or the classy British lobby during afternoon tea. With squarelovin The George is now taking advantage of this very quality by incorporating a social wall filled with UGC on its website. After a little less than half a year, the hotel is already seeing a significant conversion rate increase.
With the options to adjust or move beds and connect rooms on request, the 1-3 bedroom apartments and studios offered by Adina are specifically designed to be an individual home away from home for every guest. At the same time, a shopping service as well as laundry and dry cleaning offer the same level of comfort as a hotel.
A home is typically characterized by personality and warmth – to authentically convey these central characteristics of their apartments, Adina decided to prominently integrate User Generated Content and present their accommodations in action. The UGC gallery shows an interaction rate of almost 50%, clearly indicating that browsing vacationers are pleased to take the offer for inspiration.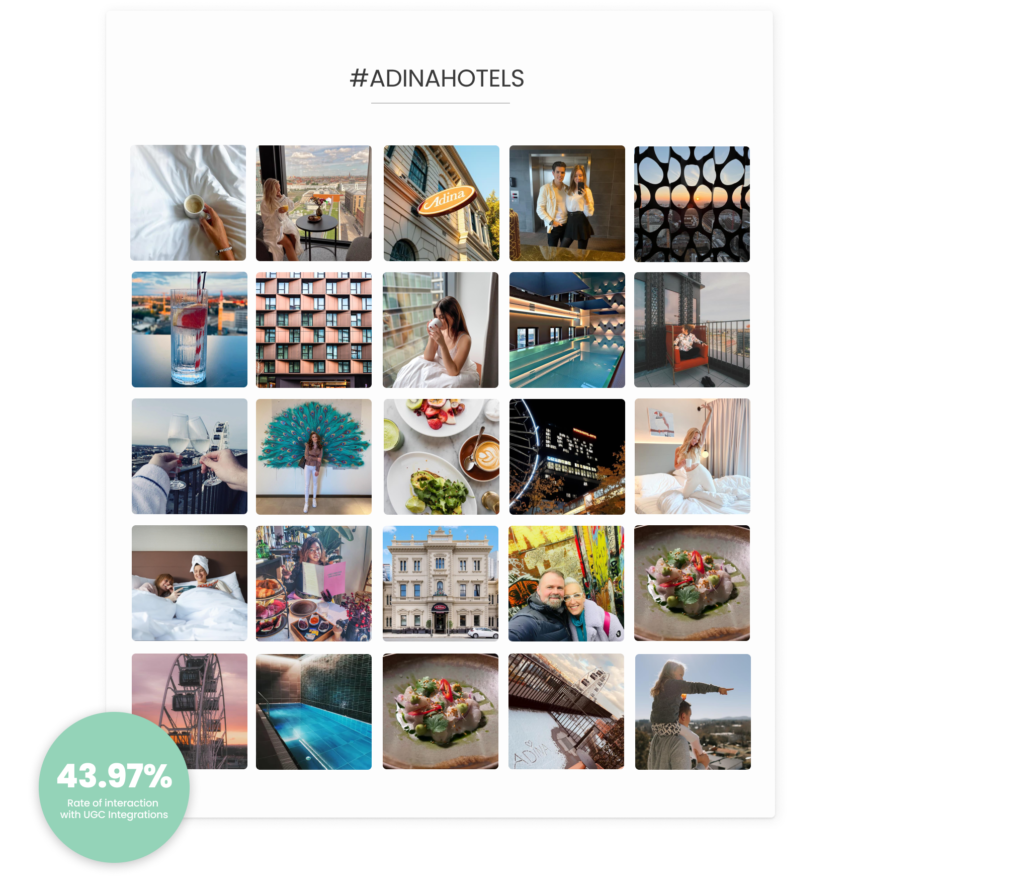 The 34 Lindner hotels in seven different countries offer comfortable accommodation for business travelers, inviting wellness oases, as well as sophisticated golf and sports hotels. Despite the great diversity, however, the Hotel Group from Dusseldorf puts a rather small detail at the focus of its brand identity: the fact that Lindner Hotels & Resorts is a family business.
Building up on this, the brand collects content created by its guests under the slogan "become a part of the Lindner family" and prominently places the curated images on its website. This on the one hand conveys a sense of personal proximity to the guests, while on the other contributing to a feeling of community among Lindner Hotel & Resort customers. This way the integration of UGC creates a powerful and authentic brand experience, resulting in great inspiration for travelers on the lookout for their next destination.
"When we travel today, we want to experience something special" – is the first sentence on the website of Superbude. Accordingly, the two properties in Hamburg St. Pauli and St. Georg are little adventures in themselves. Furnished with love for DIY and upcycling, the two hotels offer more than enough opportunities for a good shot.
In order to adequately present their self-proclaimed super guests putting it to show, Superbude integrates User Generated Content in form of a large social wall on their website – and it pays off. After only two months of working with squarelovin the number of direct bookings on the website has already increased 1.5 times.
No matter if it's a luxury 5 star resort in Switzerland or a small DIY-furnished hotel in Hamburg St.Pauli, guests who feel comfortable will always find the perfect spot for a picture to share their experience with others. The cross-section of our customers from the hotel and travel industry shows that regardless of location and price range, social proof in form of User Generated Content positively influences website performance and leads to more direct bookings.
In addition, the well-selected integration of UGC enables hotels to shift individual aspects into focus. For example, the cosy home-feeling of Adina Apartment Hotels or the family aspect of Lindner Hotels & Resorts. Pictures of other guests provide a high potential for identification and inspiration for interested vacationers and can be – pun intended – key to a successful holiday.